Skyfyre
Senior Member
since 08-15-99
Posts 1966
Sitting in Michael's Lap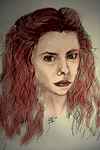 ---
"We are all animals, my Lady."

–Darkness (played by Tim Curry), from the movie "Legend"

What is the difference between animals and humans?

Or, is there any?

These queries have a bit of a history with me; I have been pondering them since I was very young, and they were responsible in great part for my passion for the sciences. Additionally, the distinctions I have made as a result of this riddle have been instrumental in my explorations of faith and self-discovery. Despite having come to a tentative conclusion of sorts on a personal level, I believe that this is a question with many right answers.

Biologically, there is not much that I can reveal that would surprise even the average six-year-old; we are Homo Sapiens Sapiens, the "Thinking Man" (the Sapiens repeated in order to distinguish modern Man from the Cro-Magnon, the first Homo Sapiens). We belong to the kingdom Animalia, along with nearly every other thing that creeps upon the earth – yet it is obvious from our preeminence that we are somehow unique – one might even say superior – with regard to our fellow animals. There are indeed biological explanations for this, most pointing to the highly developed frontal lobe in the human brain. This area is the center of "higher thought," the development of which renders us capable of grasping and even manipulating abstract concepts and intangibles. It is this singularity, scientists believe, that is also responsible for the use of tools, a widely accepted hallmark of intelligence. Though this quality is not unique to the human species, it is nonetheless rare, and there can be no argument that humanity has made the most efficient use of it.

That being said, yet another question arises: are we merely the sum of our parts? Is it only evolutionary serendipity that established our species as the rulers of this planet? In a strictly physical sense, we are one of the most poorly adapted creatures in existence – our predatory skills are marginal at best without the aid of tools, and our relatively delicate anatomies make us ill-suited for the scavenging upon which other omnivorous species often rely. Why then would the process of natural selection, whose purpose is to cull the weaklings, allow for even our continued survival, much less our dominance?

The obvious answer would seem to be intelligence; with technology, we have virtually circumvented the power of evolution by designing means to safeguard our existence. Humanity has essentially removed itself from the natural cycle; we have created medicine to thwart disease and injury, artificial shelters and environmental controls to avert the fury of the elements, and laws to protect the weak from being overtaken by the strong. Though the system is hardly perfect, we have managed to exist not within nature, but in spite of it. Nearly everything we do acts in direct opposition to the natural order of things. How could evolution have spawned such a miscreant child?

Looking to the precepts of even the most modern theories of evolution, there is little evidence that such a fortuitous happenstance is even remotely possible by means of random selection. There existed too many hazards in the dawn of mankind to have allowed this one advantage to develop with the painstaking graduality that marks natural selection, especially in the absence of other survival-related adaptations. We cannot even function as efficient herbivores; our young are born helpless, and remain so for an extended period of time – this not only endangers the infant but also the mother, who must expend her energy to ensure her progeny's survival as well as her own. By all rights, the human species should have become extinct almost immediately.

In the interest of fostering debate or at least a sharing of ideas, I shall reserve my own conclusions about how humanity rose to power until I have reviewed the thoughts of my peers. Enjoy!



<!signature-->

 You cannot choose the way of your death, but the path you choose will determine its own end.



[This message has been edited by Skyfyre (edited 01-03-2000).]